I've been on vacation with the kids for the past two weeks! My husband had to work, so we made plans to clear out and give him plenty of peace and quiet :-)
But first, we watched the final hours of the Olympics - couldn't miss the men's marathon!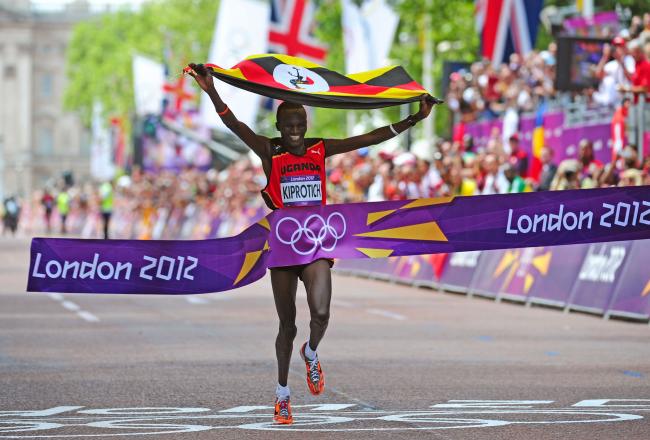 Now, that's what I call finishing with a smile.
Loved how Kiprotich was smiling non-stop for the last 1.5K when he knew he had the gold.
Speaking of smiling - my other favourite London 2012 moment was Tom Daley's team jumping in the pool with him after he won the bronze for diving. And how ecstatic he was to have won a medal.
Anyway - the Olympics was followed by family walk around High Park...
Willow trees are her favourite.
...and finally a run. Stella and I ran/walked 6.28K (my longest to date) in 5s and 1s/2s.
The next day, we packed our bags and hit the road. A few highlights -
We spent a relaxing day at the wonderful
Bowmanville Zoo
-

Catching a ride from the lovely Limba.
She gets to swim in the creek every morning before the zoo opens, one of the reasons why I love this place.
Back home for a serious workout enlarging and joining two corner gardens -
An IRL meetup at an amusement park with
Deb
, Spud and Sweetpea - on vacation following
her stellar half-Ironman
!
Kids begged us to be horses for a covered wagon

An impressive web climber
What a nice son I have - he's so pleased with how absolutely terrified I am.
The ride operator laughed at me when I got off.
An overnight trip to my mom's -
STELLA WHAT ARE YOU ROLLING IN NOW??
Sewing lesson
And our annual camping week with my cousin and her kids -
It's been a very busy and fun two weeks, but I'm feeling the effects of too much food and too little focused exercise. Better head out for a run...but first I need to tackle a mountain of laundry...